Buying a Whisky Cask
Buying a Whisky Cask – The "Wh" Questions?
A couple of years ago we bought our first Whisky Cask.  It was a momentous occasion as we started the fill of Cask 1024 at Lindores Abbey Distillery, but also one that triggered lots of questions (or maybe interest?) from folks.  Most of these questions began with "Wh" and to be honest, we had previously asked ourselves as well.  So here is the Who, What, Why, Where, When and How of buying your cask of Whisky. How you do it is well documented, and we'll come to that later.
Who? Who was actually the only question we were never actually asked.
Who are we?  We are BAMS, not the Scots definition (Scottish colloquial: Below Average Mentality. See also ned), though we maybe are a bit of that too, but rather three friends, or "Brothers And MaltS".  
The three of us, Shaun, Stephen and Graeme, have a friendship that goes way back, initially working together in IT in a small company in Glasgow, a friendship that grew through football, music, and whisky (not necessarily all at the same time).  Whisky is the one that had lasted, even to this day, with virtual zoom tastings, and drives to drop off or collect sample bottles. Note: We are not in the Whisky industry, we know a lot of people who are, and paid a lot of attention to their advice and opinions, this is our view.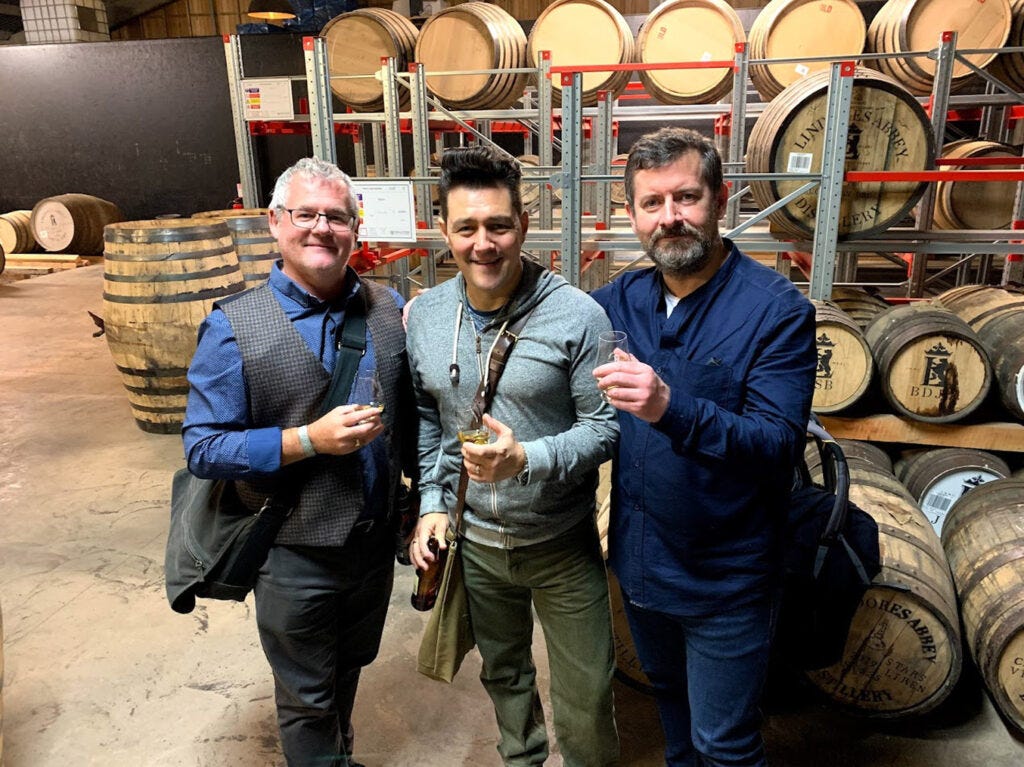 What? What do we do next?
This was probably the trigger question for the three of us.  We had worked together for years, but then all gone our separate ways, though always keeping in touch.  We made a point to meet at least a few times a year, take in a football match, a couple of drinks and a bite to eat.  This brought us to exotic locations such as: Greenock, Hamilton, Firhill, Motherwell, Falkirk and Mount Florida (Hampden, for a Queens Park game).   You will note a lack of distilleries in these places, well there is one in Falkirk now, but distilleries will come later.
Somewhere in the middle of this we discovered Whisky.  Well not discovered, it was always there, but we discovered good Whisky, and more importantly Whisky Tastings, and a night out that did not involve a cold pie and Bovril, while sitting in a drizzly damp football stadium. Whisky it seems is not only the rough fiery stuff that you toast the haggis or the New Year with, before you go back to whatever you might normally drink.  In fact, I didn't really like Whisky at all, though I do like Haggis.   Whisky tastings were the next thing for the three of us, and we rocked up to the Bon Accord in Glasgow (one of the greatest Whisky bars – look it up), dived in headfirst and were instantly hooked.  
The first two whiskies I tried at these tastings were so far apart on the flavour spectrum that you would not even have thought they were the same drink.  One was light and grassy, crisp and clean.  The other, like chewing on a tarry rope that had just been thrown ashore by a trawler in Peterhead Harbour!  I loved them both.   I've not idea what they were, but they were brilliant, and is why I now take notes (though the written ones are often in secret code as you can see on Insta).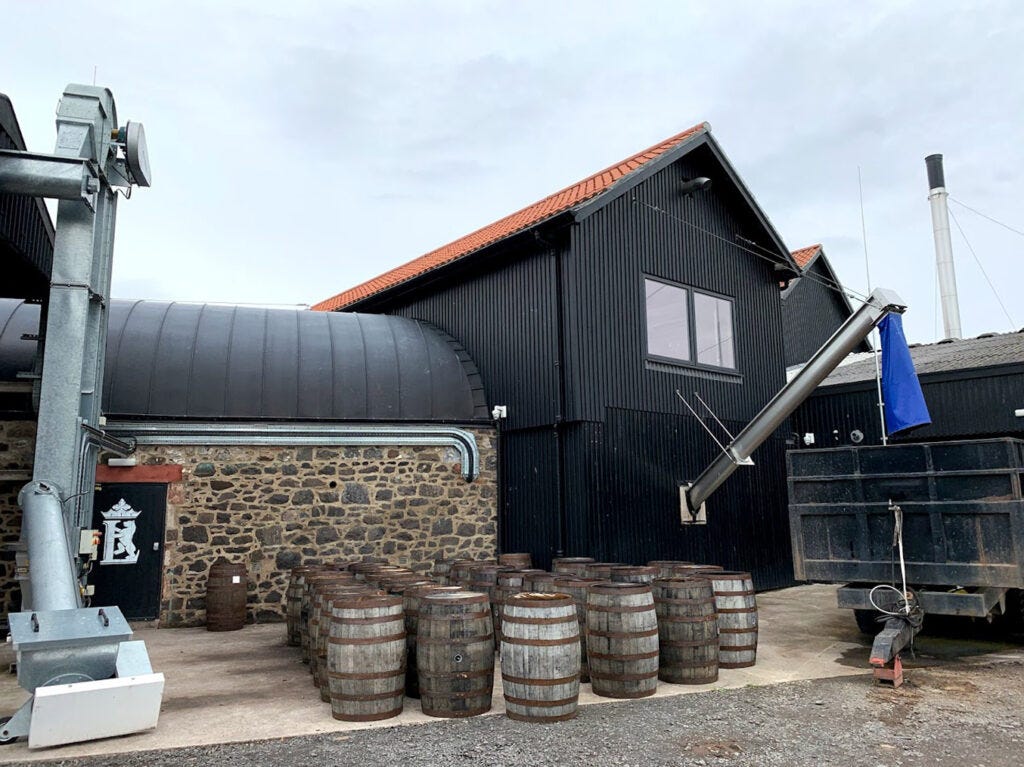 What to do next?  Let's buy some Whisky together, lets got and see what we have to do to follow this through and also Why?
Why? Why is the question asked most often:  
We asked ourselves – Why are we doing this?

Others asked – Why did you do that?

The distillery even asked – "Why do you want to buy a cask of Whisky"!
The fact that the distillery asked, was one of the reasons we went ahead, as they clearly didn't want to sell to anyone that wasn't sure why they were doing this.
So, Why would you buy a cask of whisky?This was one we thought long and hard about, and it took many years to pull the plan together, and many evenings of "research". There are many different reasons to invest, and to be honest, it is an investment, but its maybe not only a financial investment."Are your investments making 8-15% per annum" is the sort of thing you will see attracting you to invest in Whisky. There are numerous sites, brokers, etc advertising quick wins in the whisky market, but beware, with some of these, you don't actually own any whisky.  You buy a share in the investment vehicle, the cask that is holding the whisky, and hopefully the profit when the whisky is sold on, probably as a whole cask, not bottled.  This was not for us, we wanted to have some whisky at the end of it, and we are in it for the long term.
Friendship was what we are investing in, the key reason we went ahead, the answer we gave the distillery, and in general something that we look forward to having for a long time yet. There is a financial investment, it costs money, you need to hand over your hard-earned cash at the start of the process, and then again at the end, where the Customs Man becomes your new "friend", but the money is not the driver here.  At least not for Cask 1024.   One cask is not going to make you any money anyway, look at the number of independent bottlers out there, who invest a lot of time and money to enable them to source casks, bottle them, market them, distribute etc.  We'll need to have more than one cask to make any money out of this.
Where? Next up is Where do you buy a Whisky Cask?
There are several options here: Distilleries, Brokers, Cask Shares, Investment Firms, The Internet. Four of these were ruled out pretty quickly, as this was more than just a financial transaction, and with "The Internet" there was nothing to say you would actually own a Cask, or Whisky in some cases. I might write more about Brokers, Cask Shares another day, but today is Distilleries. No, we were going straight to source, or the Still, as the source is where the water comes from, not the whisky.  Distillery was the way to go. Not all distilleries sell casks.  They simple don't need to in some cases, so you need to do your research and see who is selling.  We had a fairly long list, Arran, Raasay, Annandale, NcNean, Glengoyne, Lagg, to name but a few.  
Over time we had visited several distilleries, did the tour, public and private, and thought a lot about where we would like to buy into.  Part of cask ownership is being able to go and visit your cask in the distillery.  To hug it and pat it, and have a wee sample, which ruled out a couple that were maybe a bit further away or remote for the day trip etc. Lindores fitted the bill, mainland, not too far away, and easy to get to.  Lindores it is!
In the summer of 2019, we rocked up to Lindores Abbey Distillery, Fife, Scotland.  This was a research mission, a look around, a tour, tasting etc.  Elliot and the team at Lindores were superb, go look them up.   Lindores is a new distillery, at this point less than two years old, so they don't even have any Whisky, their spirit is not old enough yet (fyi – Scotch Whisky needs to age for 3 years in the cask before it is whisky).
When? When?  Well, not time like the present.  JFDI (Just F'ing Do It) as Graeme says!
Part of the when is selecting a cask, and then confirming a fill date with the distillery.  A bit more of this in the "How?" Section. It took us 5 years, yes FIVE, to pull the trigger.  In fact, once we had settled on Lindores, it was maybe 12 months before we filled the cask!  I did say there was a lot of research involved.  The real When question is, "When is the next one?"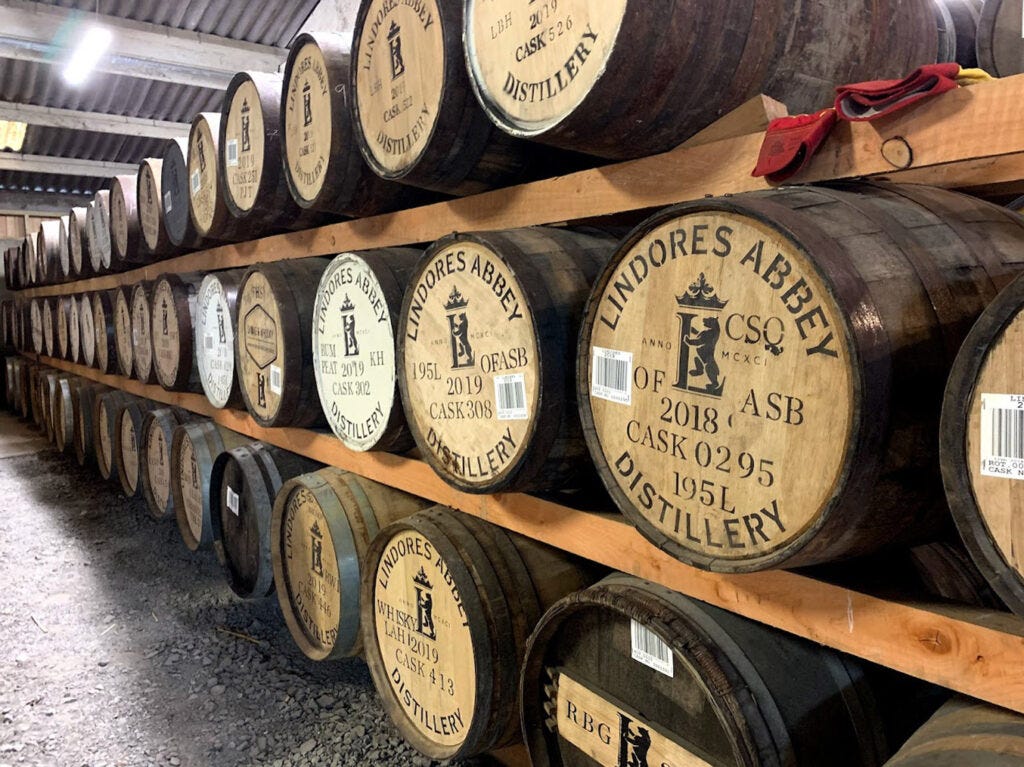 The other side of When is not a question at all, but rather a recommendation.  When you are going to fill the cask, enjoy it, this is where the best part is (well, before bottling anyway). We had the day at the distillery, the closed tour so to speak, and in the warehouse from rolling out our cask to hand filling and stamping it.  These were great times!
Located in the Newburgh, Fife, Scotland's arable farming heartland, as we approach the distillery, there are acres and acres of crops, bright in the summer sun, waving in the gentle breeze. 
Barley.  Barley that is then malted and mashed for Lindores and would ultimately make the spirit that would fill our cask.   Knowing that everything is local, there is a sense of pride in knowing that we were making a small contribution to supporting the distillery and the wider community. 
The distillery itself nestles at the edge of the town near the site of Lindores Abbey, where Whisky was distilled as far back as 1494, and was built using and enlarging the old far buildings on the site.   We enter the distillery, sympathetically modern to the old buildings, and from the visitor centre can see the Cloisters, a long arched roofed room, leading down to the still room, where three bright copper stills look out onto the ruins of the old abbey.
As we tour round the distillery the aromas fill your head, from the pungent malty smells of fermentation, to the crisp clean aromas of the still room.  As we move to the warehouse, this changes to woody, oaky, spicey aromas.  Casks of all sizes, Firkins, Quarters, Hogsheads and Port Pipes are stacked out before us.  This is where it all happens, this is where the spirit will mature, and after a minimum of three years in the oak cask will become whisky. Cask 1024 is rolled out, weighed and logged, and ready for the fill.  The clean clear new spirit fills the cask until overflowing (don't worry, we didn't spill too much), and then sealed with the bung, before being rolled into place in the warehouse.  We will return to visit and sample over the coming years, and check on the progress of our whisky, and the distillery.  We have secured a further 10 years of friendship and adventure!
How? How do you buy a whisky cask?  Well, once you have decided on the Who, What, Why, Where and When, it's pretty simple.
As mentioned, we had visited Lindores and expressed an interest in buying a cask, and they outlined the process, and provided the detail for review at our leisure.  Distilleries that sell casks all supply information on How is done. Simple steps are:
Register your interest with the distillery (normally an online form)

Speak to them, go and see them.  You don't buy a made to measure suit without visiting the tailor (or you shouldn't)

Select the type of Cask you want to buy.  Lindores for example offered several different types, STR Wine Barriques, Oloroso Sherry Butts, Bourbon Hogsheads, Firkins and Port Pipes for starters.  Raasay similarly have a range of casks.

There are a couple of key things to consider when selecting a cask:
Finish – the cask has a big impact on the final flavour, consider your preference carefully, as not point in buying something you don't like 
Size – Casks are all different sizes, and therefore, different costs.  I really fancied a Port Pipe; it was quickly ruled out.
Paperwork (and payment) as part of this, make sure you read and understand the full Terms and Conditions, and walk away with your Certificate of Ownership.

Maturation takes at least three years for your cask to become whisky, but you will probably wait for at least 5, more likely 10, before you come to bottling.  

Visiting - Don't worry though, in this time you can visit and sample your cask to see how its developing.  Some distilleries also run exclusive events, sampling nights etc for Cask Owners

Bottling – finally we get to bottling.  As part of the T's & C's you will have understood how this works, things like bottle options, labelling etc are all covered in here, as well as estimated costs, as you were looking into the future 10 years ago.  You would also consider the ABV at which you bottle, lower ABV, less excise per bottle, but more bottles, High ABV, less bottles, higher excise etc
I have deliberately left the How section a bit vague, as you should really to your own research here, decide if its for you or not, and things change, make sure you are up to date.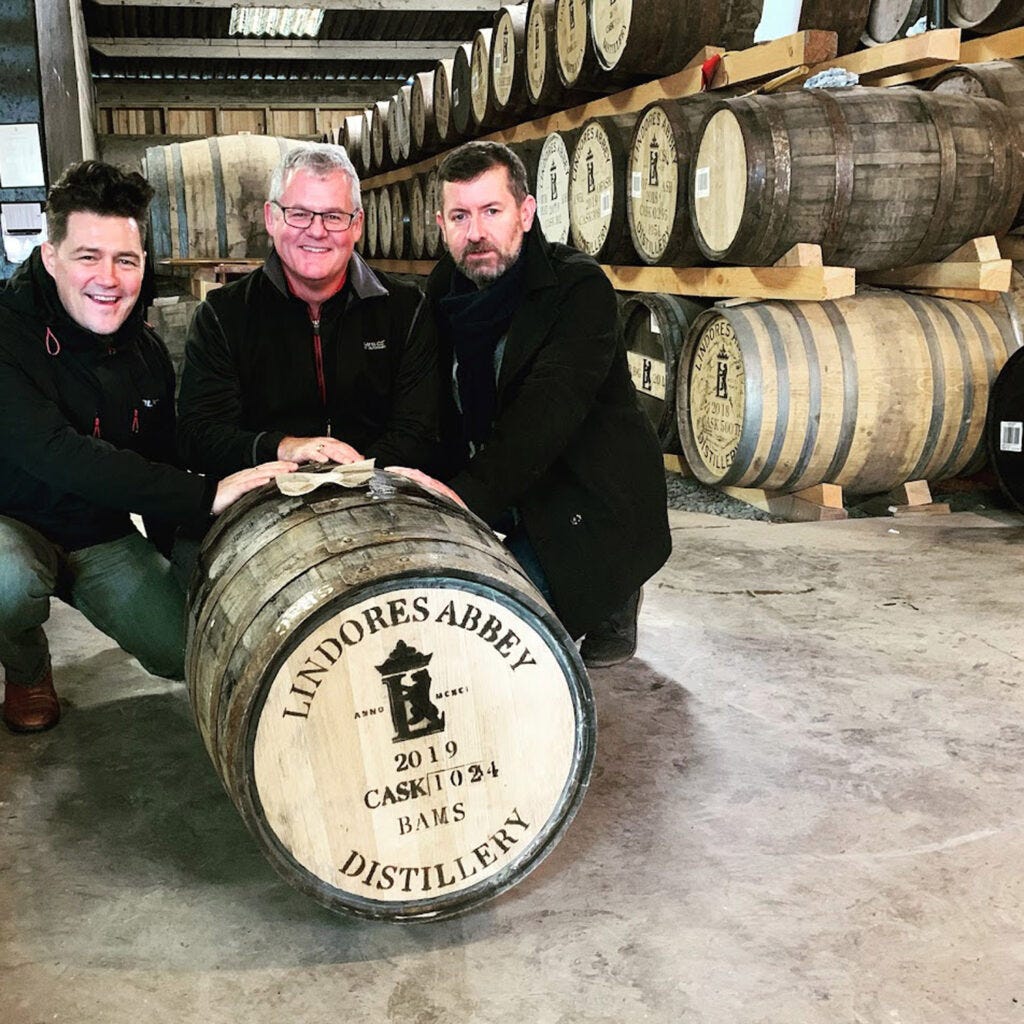 When and What? Finally, there is the double barrelled "Wh question":  When it matures, What are you going to do with it?
Drink it is sadly not an option, at least not in the distillery, you must take it out to do that.  So, you have a choice: bottle it; sell the cask whole; let it rest for another X years. Cask 1024 will be bottled, which takes us back to What.  What are you going to do with 200 plus bottles of whisky?   This is our whisky, so most will be with friends and family, or left to the kids in wills if no one wants it 😊Sláinte
Instagram - Whisky_at_home and the BAMS